Today was a fun day. Two of the ladies, Elaine and Barbie took me to La Mitad del Mundo (The Middle of the World)http://www.volunteeringecuador.info/travel/mitad-del-mundo-near-quito.html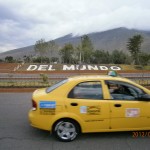 We saw some llamas and a baby llama nibbling on the plants at the La Mitad Del Mundo.
There were several museums there to walk through. One told about the measuring of the equator and finding where it ran. One was about insects
and another owed how Quito used to look. We stopped by the Ecuador Insectarium and looked at the various insects and butterflies of Ecuador and South America. I held two Dynastes Hercules http://en.wikipedia.org/wiki/Hercules_beetle. Yes, they were alive.
We also visited some of the craft shops there. We saw some Vegetable ivory http://waynesword.palomar.edu/pljan99.htm  It was very interesting to see the jewlery they made and the carvings.  They were very pretty.
For lunch we had locro, a potato soup with cheese and avocado.  It was very good!
We also moved into the HCJB missionary guest house today.  It gives us a little more room in which to move.  It is very pleasant.